Cooma Showgirl – Kristen Whiting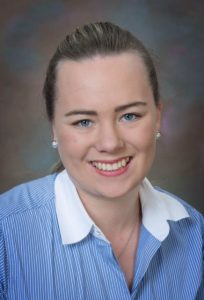 A desire to meet people involved in all aspects of the agricultural industry was one of the reasons that convinced Kristen Whiting to stand for selection as the 2018 Cooma Showgirl.
Monaro born and bred, Kristen lives with her parents David and Noelene Whiting on the family property located just west of Cooma, on the Greendale Road. She attended Monaro High School in Cooma, gaining her Higher School Certificate in 2011.
After studying at the University of Canberra?? for three years, Kristen will graduate with a Bachelor of Environmental Science next May 2018; she already has a Certificate II in Agriculture from Cooma TAFE?
She intends using the fruits of her study to continue working on the family farm, implementing improved techniques in order to achieve a more sustainable future for the property.
"I wish to develop a career that works the line between science and agricultural industries such as local land services," Kristen says. "To achieve this I will be completing a second degree in Agricultural Business Management."
Meeting and talking to people involved in a wide range of agricultural industries will be the perfect way to broaden her knowledge of agricultural issues, Kristen says. "This, in turn, will help me to take a step closer to achieving my chosen career."
An active member of the local community, Kristen's interests are many and varied. Not surprisingly, she is a long-time supporter of the Cooma Show, particularly the horse and pavilion sections. Indeed, her family has a long association with the flower, vegetable, fruit and produce sections and Kristen has helped her father David on numerous occasions as a steward of the vegetable section.
A keen horse-rider, Kristen has been a member of Cooma Pony Club since the tender age of two! She loves training and competing her horses and is more than happy to pass on her knowledge, helping to develop younger riders and judging at local shows.
Kristen's other interests include volunteering with Bush Heritage Australia, taking part in research that is being conducted into the incidence of die-back affecting manna gums across the Monaro. She is also a keen gardener and, in quieter times, enjoys cross-stitch.
The Cooma Pastoral & Agricultural Association is sure you will agree that Kristen Whiting is a worthy recipient of the Cooma Showgirl title for 2018.